Xtreme-HD4
Quad Channel DVI-I Capture Card
8 Lane PCI Express Gen.3 bus
3.2 GB/s total capture bandwidth in 4 PCIe lanes
Gen.3 or 8 Lanes Gen.2
4 x EMS capture processors
Frame buffer memory 4 x 256 MB
All standardVision Range features
EMS unifiedWindows and Linux driver support
Description
Quad Channel DVI-I Capture Card
Capture four DVI-I High Definition DVI streams in a single capture card.
The Xtreme-HD4 is an eight lane PCI Express capture card with four independent video capture channels, supporting HD capture.
This video capture card provides a high performance high density video capture solution for control room, medical and other applications that require high capture bandwidth. The quad HD capture capability in combination with EMS's multi stream and synchronization features enables resolutions up to 4096×2048 and Quad HD solutions.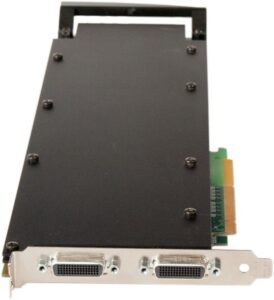 The Xtreme-HD4 captures all four HD video channels simultaneously and triple buffers them into onboard storage for tear free video, alongside embedded HDMI audio streams can also be captured from each channel.
This full length video capture card has four capture processors, each providing 800 MB/s bandwidth.
Quad DVI‐I Capture Channel:
• HDMI / DVI / RGB /YPbPrVideo Capture
• Maximum resolution up to 4096 x 2048, at 165 MHz Pixel Clock (Digital modes) or 170 Msps in analogue modes.
• HDMI audio capture with streaming from each DVI Channel
• ~800 MB/s bandwidth per capture processor, 3.2GB/s for the card
Video Streaming Support
DirectShow drivers for WDM Streaming driver supports the following applications, to encode, record and stream video over networks or the Internet:
• Microsoft Media Encoder®
• VLC
• VirtualDub
• Any other DirectShow encoding software
For streaming applications, the Xtreme‐HD4 can be used with Windows Media Encoder to compress and stream captured video. To replay the video, use Windows® Media Player.
Any application compatible with Windows® DirectShow technology can use the Xtreme‐HD4 due to it built‐in WDM support.
Audio Features
HDMIAudio capture and streaming from each DVI Channel supports audio capture to the PCI Express bus at popular sample rates from 44.1 to 96 ksamples/s at 16 bits/sample. The card supports playback and mixing of HDMI embedded audio.
EMS Software
The Xtreme‐HD4 is supplied with a powerful software application for configuring the format of the input sources and displaying the data. Simply connect your video source into the card, run the Xtreme‐HD4 application to automatically detect the video source format and display the captured video in a window on your desktop.
Software Capabilities
Timestamp support for streaming synchronization
• Synchronizations of multiple inputs across multiple cards
• Synchronize systems using network clock synchronization
• For edge blending and other applications
Flexible and configurable EDID Management
• Allows programming of custom EDID parameters for Capture cards
Low Input to Output Capture Latency
• DMA to third party graphics vendors back and front buffers via Direct3D
• Compatibility withAMD DirectGMA
• Compatibility with NvidiaGPUDirect
User Mode filter for source selection
• Enables cropping support in DirectShow on all inputs
• Supports Start and Stop trigger interface on all Visi0n inputs
EMS Unified XtremeDV Driver
• Multiple cards per system, 16 streams per input
• Frame sync and time stamping
• DirectShow interface
• The XRGBEasyAPI for advanced audio and video control
• Fully integrated for use with EMS VigiControl ‐ Wall Control software for video wall applications
Specifications
Board Format
PCI Express x4 half size plug-in card, 110mm x 170mm

Connectors (main board)
DVI-I, RCA and 2 x BNC connector: Input (Green LED) and Loop through output (Blue LED)
HDMI Capture
Supports HDMI 1.3 to 225 MHz (inlcuding deep colour modes) HCDP is supported when used with EMS graphics cards
HDMI audio can be selected as source for audio streaming
Incorporates TMDS equaliser to support up to 20m cables
DVI Capture
Supports DVI 1.0 RGB 24 bit capture to 165 MHz
Incorporates TMDS equaliser to support up to 20m cables
VGA/ YPbPr Capture
Triple ADCs sampling up to 170Msps. Full 4:4:4 sampling, 8bits per colour
5-wire, 4-wire or sync-on-green signal format
DVI-I Modes
1920x1200/ 60 fps. 32 bit colour, up to 4096x4096 resolution
Composite Video Capture
CCIR601 sampling, PAL, NTSC, SECAM formats automatically detected
SDI Capture
SD-SDI (480i/ 576i), HD-SDI to 1080i, 3G-SDI up too 1080p and 2k Digital cinema modes
SDI audio can be selected as source for audio streaming
Analogue Audio Capture
Balanced and unbalanced analogue audio capture (through optional audio module)
Video Capture Memory
256MB high bandwidth frame buffer supports triple buffering of HD and SD video
Local storage of complex scatter-gather tables for DMA engine (eliminates read overhead)
Video Processing
Polyphase FIR scaling engine (7x5) for hardware downscaling and upscaling
Colour space conversion allows captured data to be transferred in any format:)
•RGB 16 bit (5-5-5, 5-6-5), 24 bit (8-8-8) or 32 (8-8-8 alpha)
•YUV 16 bit (4:2:2)
•Mono: 8 bit

DMA Engine
Direct DMA to physical or virtual memory buffers with full scatter-gather support
DMA bandwidth: up to 800 MB/s
16 independent DMA streams: Any mix of HD and SD sources, colour space, cropping and scaling parameters
Operating System Support
Up to Windows ® 10 and Linux support (NOTE: Check Linux specific features with Sales)
Power Requirements
Max current at 12V - 1A
Max current at 3.3V - 1A
Thermal dissipation - 15.5 W
Operating Temperature
0 to 35 °C/ 32 to 96 °F
Storage Temperature
-20 to 70 °C/ -4 to 158 °F
Relative Humidity
5% to 90% non-condensing
Warranty
3 years
Downloads
For Datasheets, User Manuals, Software & Drivers; Download Here