Xtreme-ActiveSQX
£1,566.00
Dedicated decoding card
Dual RJ45 Ethernet ports
On-board SQX decoding engine
800 Mb/s from each Ethernet 'input'
Decode multiple streams simultaneously:
Up to three 4096x2160p at 30 fps
Six 1920x1080p at 60 fps / 12 at 30 fps
50+D1 resolution streams @ 30fps
Maximum will depend on H.264 profiles and levels of incoming media
Description
Xtreme-ActiveSQX – Dedicated decoding card
Professional AV solutions require video to be received from a great many different sources and locations. The ability to receive and display video directly from online resources such as CCTV networks and remote desktop applications. Combining them with local inputs has become an everyday part of fully functional video wall display.
The Xtreme-ActiveSQX PCIe plug in card is a powerful addition to systems that require a scalable hardware based decoding solution.
The Xtreme-ActiveSQX is a half length PCI-Express plug in card with two Gigabit Ethernet input nodes supporting real time decode of multiple IP streams. Using the Xtreme-ActiveSQX decoding technology provides the user seamless integration of IP video to a EMS Wall Controller.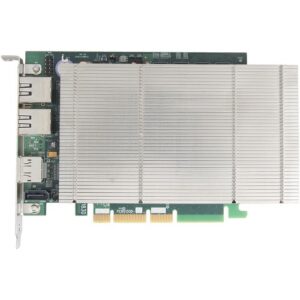 Each Xtreme-ActiveSQX card can capture a bandwidth equivalent to twelve 1920×1080 @30Hz streams on to any wall controller that uses EMS graphics cards. The number of streams the Xtreme-ActiveSQX provides depends on a number of factors such as the decoder profile used. Each card uses a single PCIe slot, is passively cooled and can easily be added to a system already using EMS technology without the need to change existing configuration or front end software.
This transparent software model enables the number of supported IP streams to be scaled up quickly according to the user requirements. Xtreme-ActiveSQX also automatically balances the total decoding workload
across all Xtreme-ActiveSQX cards in the system, allowing thermal power consumption to be distributed more efficiently.
SQX technology has been designed to work alongside the EMS Xtreme range of capture cards supporting a mixture of local and remote capture feeds on the same display. IP Streams are displayed on the video wall in the same way as captured video sources. SQX functionality is compatible with many existing window features.
Specifications
Board Format
PCIe x4 Gen.2 plug-in card half length, full height
Connectors
2 x RJ45 Ethernet ports, 1 x DisplayPort output connector (reserved for future use)
Ethernet
Dual 1000 Base-T Ethernet ports DHCP or Static IP support IPv4 & IPv6
Streaming Methods
Multicast & Unicast support
Streaming Codecs
H.264 (Mpeg4 Part 10 AVC), VC-1, MPEG2 Part 2, MJPEG
Streaming Containers
MPEG4 part 1, MPEG2-TS, WMV, MOV
Streaming Protocols
HTTP, RTSP, RTP, UDP
Decode Density
Up to 3x4096x2160p @ 30fps or 6x1920x1080p @ 60fps / 12 x 1080p @ 30 fps or 10 x 1080i @ 30fps / 50+ D1 @ 30 fps
De-interlacing
Supported
Stream Authentication
Basic & Digest Stream Authentication
Video Capture Memory
4 GB
H.264 Profiles
Constrained Baseline Profile (CBP) / Main Profile (MP)/ High Profile (HiP)
H.264 Levels
Level 3/ 3.1/ 4/ 4.1/ 4.2/ 5/ 5.1/ 5.2
Colour Format
NV12 4:2:0
DMA Engine
Direct DMA to physical or virtual memory buffers with full scatter-gather support DMA bandwidth: up to 1.3 GB/s
Scaling
Hardware downscaling prior to DMA transfer. One to One (1:1) transfer for upscale after DMA
Carousel
IP Window carousel supported including the hardware based pre-buffering of IP decodes for smoother playback
OS Support
Windows 7 64 bit/ Server 2012
Power Requirements
Max current at +3.3 - 0.6A (TBC)
Max current at +12V - 0.80A (TBC)
Max power ≈ 12W (TBC)
Operating Temperature
0 to 40 °C/ 32 to 104 °F
Storage Temperature
-20 to 70 °C/ -4 to 158 °F
Relative Humidity
5% to 90% non-condensing
Warranty
3 years
Downloads
For Datasheets, User Manuals, Software & Drivers; Download Here