The Future of the AV industry is 4K.
The XtremeDV range, made up of DisplayPort1.2, SDI and HDMI inputs offers 4K capture up to 60 frames per second, 10-bit colour transfer and HDCP compliance.
The range is ideal for a variety of markets where high end video capture is needed, including Medical, Broadcast, Defence and Security.
XtremeLC Range of Video Capture Cards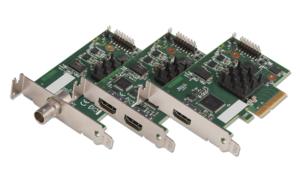 The EMS LC range are cost-effective, low-profile  yet powerful , high definition HDMI and SDI capture cards at a competitive price point making them the perfect choice.
Available in single channel HDMI, dual channel HDMI and single channel SDI, the XtremeLC range is ideal for adding to a lecture capture, broadcast environments or small devices used in the medical industry