PCIe-Express9 – Backplane 9-Slot
Call for Price
Express9-G3, 9-Slot PCIe Backplane
Nine slot PCI Express backplane – 8 x4 lane slots plus 1 x8 lane slot
One PICMG 1.3 SBC slot
Supports 8GB/s full duplex links between backplanes using HLink-G3 and SLink-G3
48 lane PCIe 3.0 switch
Compatible with a standard 4U IPC chassis
Support for daisy chaining multiple backplanes
---
The backplane provides x8 lane PCI Express slots, all implemented as x16 physical connectors. For high density and high performance display controller systems. The backplane can be used with a standard PICMG 1.3 SBC as a stand alone system or in combination with multiple backplanes to provide a PCI Express expansion system for a standard PC.
Description
Express 9 & 9-G3 Backplane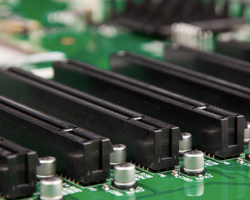 The EMS Express9 backplanes use advanced PCI Express switches to create a high bandwidth fabric that connects up to nine PCI Express plug-in cards into a host system.
The host can take the form of a Single Board Computer (SBC) which connects directly into the PICMG 1.3 system board slot of the Express9, creating a stand-alone 9 slot PC system. Alternatively a remote host can be connected into the Express9 backplane using EMS's HLink-G3 and SLink-G3 products, transforming the Express9 into a 9 slot expansion backplane. Using multiple Express9 backplanes configured in expansion mode allows the construction of very large systems (up to 41 slots).
The Express9 backplanes provide nine 16-lane physical connectors, eight of which are electrically configured as 4-lane slots, and one of 8-lanes (slot 1). The eight lane slot can be used normally, or can accept a EMS HLink-G3 board to extend the PCI Express bus, over eight lanes, onto a subsequent Express9 expansion board.
The EMS Express9 uses PCIe 2.0 (Gen2) switching technology. The peak bandwidth available from the PICMG and slot 1 is 4 GB/s and the peak bandwidth from slots two to nine is 2 GB/s. The PICMG and the nine slots are all operating in bi-directional mode.
The EMS Express9-G3 uses PCIe 3.0 (Gen3) switches to boost the data bandwidths to 4 GB/s and 8 GB/s respectively. Even when the Express9-G3 is expected to be used with plug in cards that are only Gen1 or Gen2 rated, the additional bandwidth can still be used to provide a peak bidirectional bandwidth between backplanes of 8 GB/s (using the HLink-G3 and SLink-G3 board pair). When used in this way as part of a multi-chassis data wall system, for example, this link bandwidth eliminates the bottleneck between capture cards in one chassis and display cards in another chassis. As a guide, the 8GB/s bandwidth can handle approximately 14 full HD streams at 60 Hz and 32 bits per pixel in either direction.
Connecting multiple Express9 & Express9-G3 backplanes
Star Connection or Daisy Chain. . This configuration provides a high number of available PCI Express slots supporting low latency.
All PCI Express slots in the master chassis (containing the SBC) are populated with a HLink-G3 card. Each HLink-G3 is then connected to an expansion chassis using an ExCable-G3 and SLink-G3 card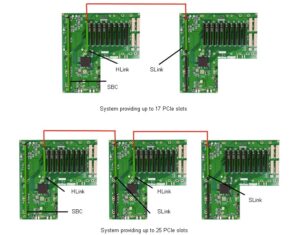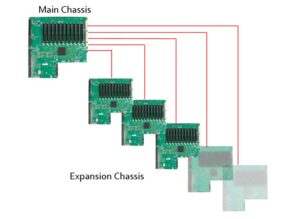 | | |
| --- | --- |
| Product Name/Order Code | Description |
| Express9 | 9 slot PCI Express Gen.2 Expansion backplane PCIe 2.0 switch |
| Express9-G3 | 9 slot PCI Express Gen.3 Expansion backplane PCIe 3.0 switch |
Specifications
Express9 & Express9-G3 Specification
Max Power (without SBC)
5W (Express9)
8W (Express9-G3)
Power Requirements
Max current at +3.3V – 0.5A
Max current at +5V – 1.0A (1.5A for Express9-G3)
Form Factor
ATX & PICMG mount compatible
Card Slots
PICMG1.3 Host SBC interface
1 x PCIe (x8) expansion slot
8 x PCIe (x4) expansion slots
PSU Connections
4 x 24 pin ATX power connectors (Express9)
2 x 24 pin ATX power connectors (Express9-G3)
1 x 8 pin 12V AUX power input
1 x 8 pin
12V AUX power output local to SBC
(Express9-G3 provides voltage monitoring of all rails)
I/O Connections
2 x ports SATA 2 (from SBC via PICMG slot)
2 x ports USB 2.0 (from SBC via PICMG slot)
3 x 4-pin Fan headers (temp controlled)
Operating Temperature
0 to 35°C / 32 to 95°F
Storage Temperature
-20 to 70°C / -4 to 158°F
Relative Humidity
5% to 90% non-condensing
We are continuously developing the technology used within our product ranges delivering outstanding innovative solutions, therefore the specification may change from time to time.