iVu9s-Pro – 9-Display 4K2K
Call for Price
9-Display 4K2K Video Wall Processor
9 DVI outputs from 640×480 to 1920×1200 with a local loop out for monitoring
Supports one HDMI input resolution up to 4K2K, other inputs up to 1080p/WUXGA
PIP, side-by-side (PAP), full screen modes and adjustable size & position through software
Software control through RS-232 and Ethernet
---
The EMS iVu9s-Pro 9-Display 4K2K Video Wall Controller is a powerful, most cost effective, and fully real time data/video processor for multiple flat panel displays or projectors.Ideal for Medical Image Review, Satellite Imagery and Digital Signage Display Solutions
Description
EMS iVu9s-Pro, 4K2K 9-Screen Video Wall Controller
Ideal for Medical Image Review, Satellite Imagery and Digital Signage Display Solutions

9 DVI outputs from 640×480 to 1920×1200 with a local loop out for monitoring
Supports input rotation
PIP, side-by-side (PAP), full screen modes and adjustable size & position through software
Resize, position, flip, zoom output video
Each DVI output has and independent controllable display area
User-selectable output settings, up to 1920×1200
Image parameters and layouts are automatically saved in flash non-volatile memory of the device and can be recalled for later use
Several image parameters and layouts can be saved in computers and can be loaded for later use
Software control through RS-232 and Ethernet
Firmware upgradable for new features and technology enhancements
Supports one of HDMI input resolution up to 4K2K, other inputs up to 1080p/WUXGA
PCIE-interface add-on card design
Supports DVI/HDMI, VGA and Component input format from 640×480 to 1920×1200, interfaced or progressive
Perfectly as a video screen splitter, a video converter and a video switcher
Can be cascaded to obtain more displays
HDCP compliant
Advanced video de-interlacer for improving 480i and 576i SD video input
2.5 RU size

The EMS iVu9s-Pro 9-Display 4K2K Video Wall Controller is a powerful, most cost effective, and fully real time data/video processor for multiple flat panel displays or projectors. EMS iVu9s-Pro can support up to 12 DVI/HDMI outputs to expand the spectrum of video wall applications. With add-on card design concept, users can therefore adjust the number of output ports based on different scenarios. Meantime, with the very same chassis of  EMS iVu9-Pro, the bandwidth of the video, the controllability of the module, and the input complexity can be further explored to either cost down the project budget or enhance with the new features from the new I/O cards.
Thru digital transmission, the quality of the outcome videos is guaranteed. The output display is grained up to 255 by 255 squares. Virtually any setups for the display layout can be possible by the provided software. The iVu9s-Pro allows you to input DVI/HDMI, VGA, Component, in wherever position and whatever sizes you want for viewing. The embedded scaler converts signals from two of input sources to match the native resolution of monitors, flat panel displays, projectors as well as user-selectable output settings up to WUXGA (1920×1200). The iVu9s-Pro sends the resulting processed video thru DVI/HDMI interface to the connected monitors/projectors based on the display layout. The layout can be readily modified to fit your applications and optimize visual effects. Typical applications include digital signage, and broadcasting/education/ surveillance systems, etc. iVu9s-Pro.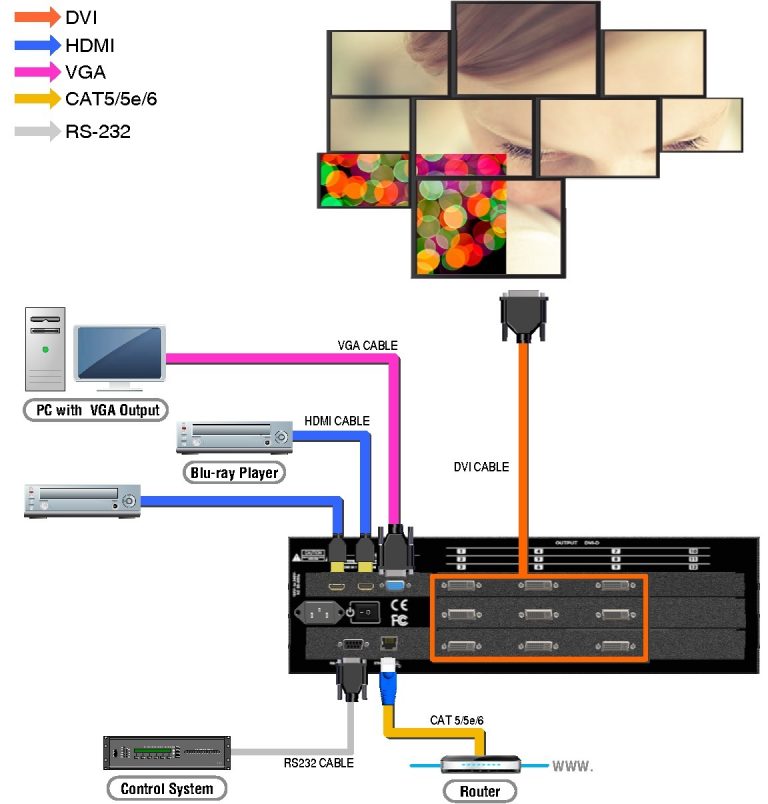 Input Source Settings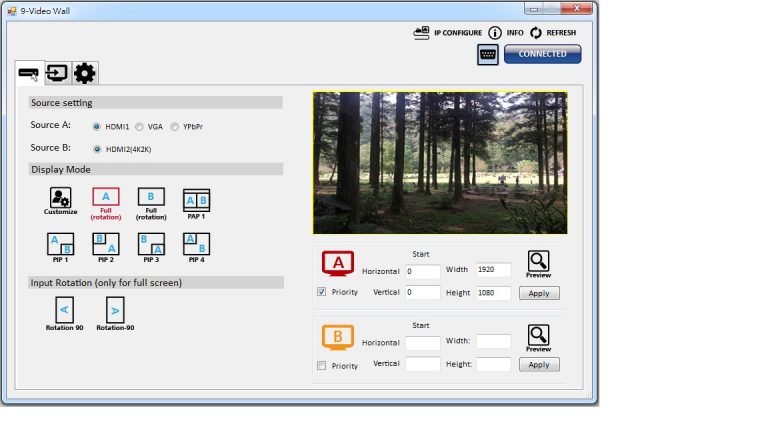 Output Settings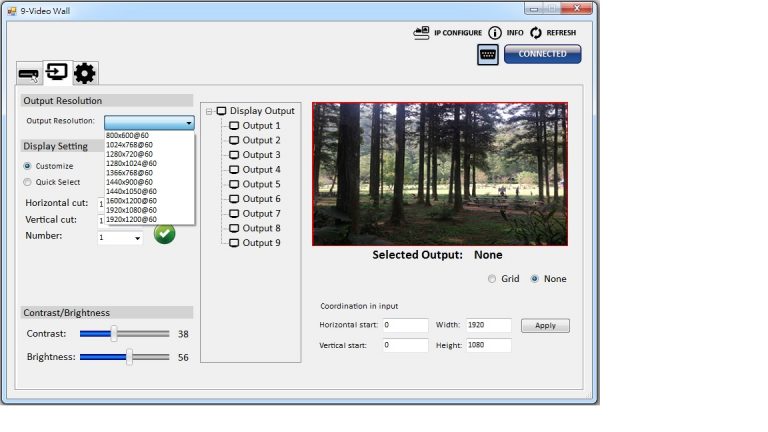 Bezel Mask Function
Bezel mask or screen border adjustment, this is quite an important function, normally the display will be 'staggered" from screen to screen due to the use of conventional LCD/Plasma displays, but with this function you can adjust the display to be seamless, e.g. mask-out the screen bezel enabling a visually seamless display.

iVu9s-Pro Control Software
There are two ways to control the iVu9s-Pro either through RS232 serial mode or Ethernet Mode by entering the device IP. Once the software control interface is established it will then enter the control interface directly.
Control options as follows;
Input Control: select two sources A) HDMI1, VGA or YPbPr and B) HDMI2 (4K2K)
Display Mode: we provide 7 default layouts and one custom mode for you t select.
Input Rotation: full screen mode rotation options+/- 90 degrees
Output Control: set output resolution
Display Settings: custom or quick select options
File Options: save layout configuration or load existing configuration
Learn EDID: 1-4 default EDED
Firmware Updates: for input and output card updates
Factory Reset
Specifications
There are two types of unit (9 outputs and 12 outputs), currently we only support the 9 display unit, please contact sales for the 12 display unit.