XtremeDV-UHD2
Dual HDMI 2.0 Video Capture Card
Two independent HDMI 2.0 capture channels
Eight lane PCIe Gen.3 interface, Net 6 GB/s total capture bandwidth
2 GB Frame Buffer Memory
Full 10-bit processing pipeline
Up to 8K by 8K resolutions
Built for the highest density systems supporting multiple inputs
Full support of the Vision Performance Feature set
EMS unified Windows® and Linux® driver
Description
AV integrators demand the highest resolution video offering both detail and colour accuracy when creating the most stunning visual displays. From command and control rooms to reception areas, collaboration the very best quality and ultimate customer satisfaction.
Providing two HDMI 2.0 capture channels with HDCP 2.2 at 4K60p with full 4:4:4 colour sampling, the XtremeDV-UHD2 compliments our hugely successful XtremeDV capture card family and offers unparalleled performance in frame grabber technology.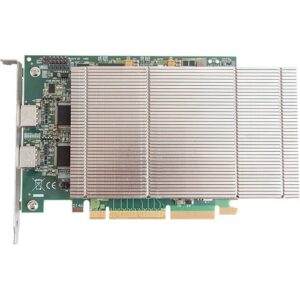 XtremeDV Performance Features
The XtremeDV-UHD2 is supported by the EMS Vision Performance Driver. Features include: EMS LiveStream for a single line of capture latency, MultiStream for multiple capture instances, hardware timestamping, HDMI signal conditioning supporting longer cable runs, automatic fast & reliable mode detection, frame synchronised ganging of inputs (dual 4K into 8K x 2K), flexible onboard Colour Space Converter plus a whole lot more.
An advanced hardware scaling engine with polyphase multi-tap filter also provides superb antialiasing performance when downscaling and smoother transitions when upscaling.
Proven and Reliable SDK
Built for the future, EMS continues to maintain and support its RGBEasy SDK for application developers as well as offering a Microsoft DirectShow interface based on the AV Stream framework. Inputs can be accessed by any DirectShow or Media Foundation applications including:
Microsoft Media Encoder
VLC
Telestream WireCast
vMix
VidBlaster
OBS Project
Adobe Flash Media Encoder
Dataton Watchout
A Video for Linux (V4L) driver package is also
available for download.
Compatibility
The XtremeDV-UHD2 is supported by the following operating syste,s: Linux, Windows® XP, Windows Vista, Windows Server 2003, Windows Server 2008, Windows 7, Windows 8/8.1 and Windows 10.
EMS SDK is included for software developers
Specifications
Board Format
PCIe x8 plug-in card
Connectors
Dual HDMI 2.0
Max Capture Rate
600MHz TMDS ClockMax capture surface of 8k x 8k*
Dimensions
110mm a 177mm (incl heat sink)
Frame buffer
2GB
Input mode detection
Automatic
Pixel transfer formats
RGB10: (10bit), 8-8-8 (24/32), 5-6-5, 5-5-5, 8-bit mono Y410 (10bit), 4:2:2, YUY2, UYVY, YVYU.
Planar Modes:NV12, YV12
Colour Spaces
BT2020, BT709, BT601 with selectable limited and full range encoding.
Update Rate
Captured frame rate will match the source providing PCle bandwidth is not exceeded.
Video Standard
HDMI 2.0, HDMI 1.4, HDMI 1.3
Operating System
Windows 8/10, Windows 7, Windows XP, Windows Server 2008, Windows Vista, Windows Server 2003
Power Requirements
Max current at +3.3V - 1.0A
Max current at +12V - 1.6A
Max power ≈ 22W
Operating Temperature
0 to 35 °C (32 to 96 °F)
Storage Temperature
-20 to 70°C / -4 to 158°F
Relative Humidity
5% to 90% non-condensing
Warranty
3 years
Downloads
For Datasheets, User Manuals, Software & Drivers; Download Here